At Western Products, we put the customer at the core of everything we do. Our high-quality snow and ice removal products are built to help you get more jobs done faster. Whether you are a contractor in need of a commercial snow plow or a homeowner looking for a personal snow plow, our line of rugged half-ton snow plows, skid-steer plows, straight blade plows, hinged-blade plows, v-plows, box plows, and salt spreaders stainless steel and poly hoppers, single- and dual-stage tailgates, wireless tailgates and walk-behind spreaders will help you get the job done, even in the toughest winters.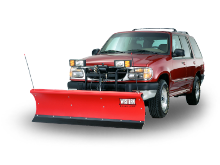 SUBURBANITE™
Personal-Use Plow
Make Your Own Path
The WESTERN® Suburbanite™ snow plow is SUV and compact pickup ready. Now you can conquer the drifts in your driveway from the comfort of a warm vehicle with the plow that's as easy to attach to your vehicle as it is to use. Now that's independence!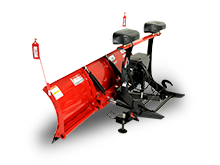 HTS™
Half-Ton Snowplow
Put Your Half-Ton to Work
For personal and light commercial applications. You've got a half-ton pick-up. The WESTERN® HTS™ is a full-size, full-featured half ton snow plow designed for today's lighter half-ton, four-wheel-drive trucks.
---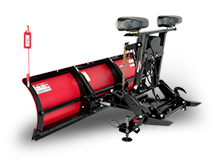 MIDWEIGHT™
Snowplow
Built for Light Commercial Use
When winter's coming on strong, you need a plow that's going to give you some real pushback. The WESTERN® MIDWEIGHT™ commercial snow plow is lean, nimble and provides plenty of muscle. Big performance for light commercial use.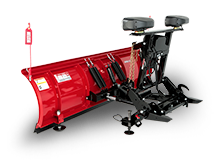 PRO-PLOW® SERIES 2
Snowplow
Stake Your Reputation on It
When it comes to your business, taking care of the customers is what it's all about. Designed for the pros, the WESTERN® PRO-PLOW® has been one of the best-selling commercial straight-blade models for snow plow contractors since its introduction. When they're counting on you, you can count on the PRO-PLOW.
---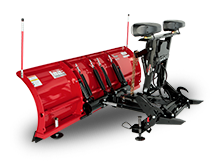 PRO PLUS®
Snowplow
For Heavy-Duty Commercial and Light Municipal Applications
Going half way has never been your style. With the WESTERN® PRO PLUS®, there's no holding back. It's rugged, tough and built to take even the most punishing applications. The PRO PLUS Commercial Snow Plow – go all the way.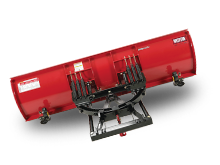 HEAVYWEIGHT
Snowplow
Bigger is Better!
Here's to matching the equipment to the job! With the largest blade available from WESTERN®, the 10' wide HEAVYWEIGHT snow plow is made for trucks in the 14,000-27,000 GVW range. You can count on these plows for light municipal plowing applications like local streets, parks, county roads, parking lots and more.
---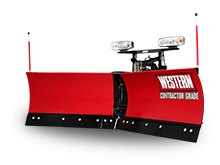 MVP PLUS™
V-Plow
Push More Snow in Less Time
When it's 5:00 a.m. and you've still got three more lots to plow, you'll appreciate the speed and efficiency of an MVP PLUS™. Trust the MVP PLUS™ Commercial V-Plow to get all of your jobs done quicker.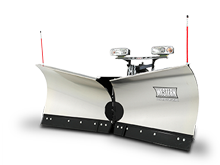 MVP 3™
V-Plow
A New Generation in V-Plow Performance
The MVP 3™ provides a whole new slant in V-plow performance and durability. From the flared blade design and the standard UltraLock double-acting cylinders, to the patented trip edge design, the MVP 3 provides all the performance features you need for unmatched V-plow productivity.
---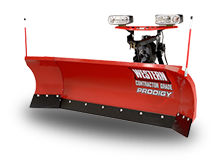 PRODIGY™
Multi-Position Wing Plow
Multi-Position Winged Plow Productivity
Easy to Operate as a Straight-Blade. The PRODIGY™ snow plow features an ingenious patented mechanical wing design that automatically positions its wings to deliver maximum plowing efficiency. Whether in straight-ahead scoop mode or angled for windrowing, it delivers multi-position winged plow productivity in a plow that's as easy to operate as a straight blade. It's available for trucks or skid-steer loaders.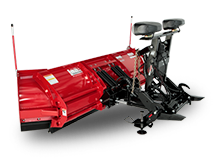 WIDE-OUT™
Adjustable Wing Snowplow
There's a Reason It's Up to 30% More Efficient
Get an 8' blade, a 10' blade, an 8'10" scoop/pusher blade or a windrowing machine all at the touch of a button. The WESTERN® WIDE-OUT™ adjustable-wing snow plow hydraulically transforms to move more snow, no matter what the condition. Up to 30% more. It's the ultimate in CONTRACTOR GRADE® performance.
---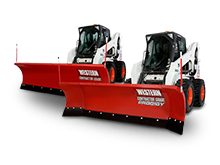 Skid-Steer
PRO PLUS® and PRODIGY™
CONTRACTOR GRADE® Performance When the Job Demands a Skid-Steer
The WESTERN® PRO PLUS® and PRODIGY™ snow plows are available with a universal skid-steer loader mounting plate for fast and easy hook-up. The heavy-duty A-frame design features a reinforced steel box for extra strength to stand up to the unique stresses of skid-steer applications.
The skid-steer's standard auxiliary hydraulic system provides the power to operate the blade, and custom-designed valves provide compatibility between the skid-steer and plow hydraulics for optimum performance.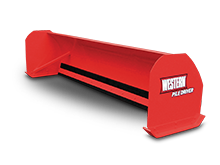 PILE DRIVER™
Containment Plows
Containment Plows Worthy of the WESTERN® Name
For the really big jobs, Western Products offers a full line of heavy-duty box plows designed to move maximum yards of snow in minimal time. The WESTERN® PILE DRIVER™ box plow attaches quickly and easily to your Skid-Steer, Backhoe, or Wheel Loader.
Western Snowplows & Spreaders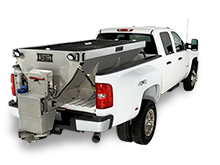 Striker™
Stainless Steel Hopper Spreader
Strike While the Pavement is Cold
Minimize waste and maximize profits with the new Striker™ Stainless Steel Hopper Spreader from WESTERN®. An innovative chute design delivers material to precise points on the 15 ½" poly spinner to cast it out and away from your truck.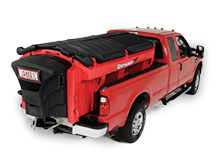 Tornado™
Hopper Spreader
Advanced Ice Control
For CONTRACTOR GRADE® ice control performance, the Tornado™ Spreader is unstoppable. Its rugged one-piece poly construction is built to last, and the innovative design features are made for performance.
---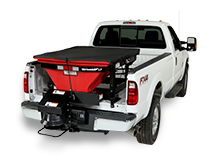 Tornado™ LT
Hopper Spreader
0.5 Cubic Yard Poly Hopper Spreaders for UTVs and Pickups
Have limited spreading needs, but still want to get the job done right? The WESTERN® Tornado™ LT 0.5 Cubic Yard Poly Hopper Spreader provides professional spreader performance in a compact package that is perfect for smaller area spreading needs.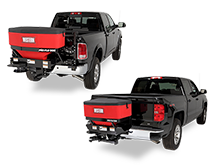 PRO-FLO™ 525 & 900
Tailgate Spreaders
Dual-stage Controls for Precision Results
For precise ice control performance, turn to the powerfully versatile PRO-FLO™ 525 and PRO-FLO™ 900 Tailgate Spreaders. A 2-stage, auger-fed delivery system and independent variable speed control provide consistent and efficient flow of all types of de-icing materials.
---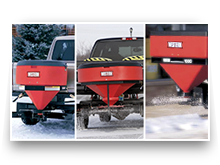 LOW PROFILE
Tailgate Spreader
Enjoy the View with the Low Profile Tailgate Spreader
When you need a smooth functioning tailgate spreader and an unobstructed view from the cab, you need a WESTERN® Low Profile Tailgate Spreader. Whether you choose the Model 500, 1000 or 2500, all three spreaders are ideal for spreading #1 rock salt, calcium chloride and other de-icing materials.
LOW-PRO 300W
Wireless Spreader
Mount up and get going!
The WESTERN® LOW-PRO 300W wireless electric tailgate spreader delivers the ultimate in "plug 'n' play" convenience. Easy to mount on many vehicles without drilling or wiring, the LOW-PRO 300W tailgate spreader comes with a standard 2" receiver hitch and a 7-pin plug, and a completely wireless key fob control!
---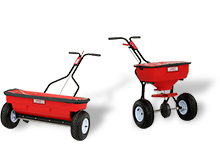 WB-100B & WB-160D
Walk-Behind
WESTERN® Walk-Behind Spreaders
Whether you're drop spreading along narrow walkways, or broadcast-spreading across wider areas, WESTERN Professional Walk-Behind Spreaders will get the job done. Constructed of sturdy corrosion-free polyethylene, both walk-behind spreader models feature a clear hopper cover. With pneumatic tires and a powder coated steel frame, these salt spreaders also handle commercial ice-melt products, and are designed to provide trouble-free performance.